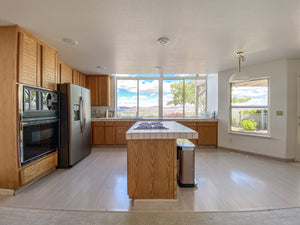 Materials! Materials! Materials! An update on the Starr renovation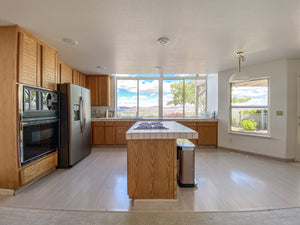 Hi guys. Feels like it has been a hot minute since we checked in on the Starr Renovation. 
Man, how I wish I was about to tell you we were all done! But what anyone who embarks on a renovation will quickly learn is that this phase, the planning phase, will go on for what feels like an eternity. (Kind of like this year, hah.)
I am happy to say we are steadily making progress, and after entertaining multiple bids from local contractors, we have found our construction team and are ready for demolition. Getting to this stage involves having the answer to a thousand little questions, from the number of dimmer switches that will be needed, to lighting design, to detailed cabinetry plans throughout the kitchen and bathrooms (you should estimate about three months if not longer for custom cabinets), and NOW begins my favorite part of the project - making our final material selections.  
We have locked in our kitchen layout - the drawers, the cabinets, the Euro pullouts. I've shared some of these sketches on Instagram as we've been drawing and dreaming and then changing everything over and over again. (A great example of why you need to be certain you are 100% happy with your plan before the project even begins, holy change orders.) I am super excited to be rotating and extending our kitchen island, adding a breakfast bar and wine fridge here. We'll also be carving out some space in the existing pantry area to include a small alcove - I spend a lot of time in the kitchen, and LOVE having good company. 
But, while material selection is always my favorite part of a renovation project, it also happens to be the most stressful. There are hundreds of individual choices to make, and most of the time it feels like a blind leap of faith that the things you select will actually work together. That's where moodboards, renderings, oh and going into shops IRL comes in - which can be somewhat of a challenge at the moment. I may be an internet sleuth when it comes to fixtures and finishes, but you never really know until you've really had a chance to feel a material. 
(And don't even get me started on hardwood floors. I have to see samples through half a moon cycle before I'm ready to commit.)
Anyway, that brings me to my current conundrum. I need your help. I am kind of in love with, and thus torn between three different directions I could go with this kitchen. I would love to know what you think! 
A Splash of Color
Ok, so I'm hesitant to jump on this trend of "paint your kitchen cabinets a nice green or navy" but at the same time, DAMN IT IS SO PRETTY. Plus this house is gonna end up being the blankest of canvases between the light wood flooring we've chosen and the endless white walls, and I kind of love the idea of creating a warm space with a daring splash of color in the heart of the home. At the same time I'm afraid of what that might do to resale value long term.
The idea would be to do just the island in this matte green finish, contrasted against white cabinetry around the walls. I would tie the two together with a speckled off-white quartzite countertop, and keep the backsplash as neutral as I can without being boring. Minor wood details throughout: an open shelf, the alcove top and furnishings would add a natural element to the overarching vibe. 
Scandi Neutral
Ok, so it is probably not a surprise that this is the option I am currently leaning towards. Keeping it light, bright and airy (quintessential Scandinavian) but still mixing materials, this time a light natural wood and a matte white. With this version I am thinking to add some depth to the design with a darker grey countertop, panel as many appliances as I can, and get more playful with the backsplash tile. 
We would introduce the wood cabinetry also below the alcove to give the whole kitchen a more minimalist and attainable feel, and I love the idea of really subtle hardware like drawer edge tab pulls to create a clean look. Though in this version I might even go crazy and paint the open shelves a fun and funky color. (Don't get too excited Liv.) 
I'd hate to be accused of playing it safe, but I also wonder if this might be the kitchen that belongs in this house.
Lean in to the 90s vibe
So. What if I were to throw caution entirely to the wind and really lean in to the serious 90s vibe this house already gives off? I mean – if I do it well, it could be gorgeous. If I don't do it well, well, it could look ruhl bad. All color all cabinets (preferably I'd use Reform CPH's Basis line in a dark linoleum). Butcher block countertops, which saves on cost, and a stainless steel farmhouse sink just to drive David crazy. Contrast this with an almost mosaic tile backsplash in a brighter color, and then source a really punchy fabric and pattern to create a custom alcove bench pad. 
Remember Bad Taste parties? (Were they even a thing here?) Well it's like one of those, but like the cool girl at the party who shows up looking fabulous. 
Aaaaah! Decisions, decisions, decisions! Materials, materials, materials! Help a girl out, I would love to hear which of these designs you prefer? Let me know in the comments below!