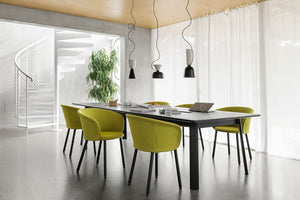 5 Perfect Dining Chairs for your Scandinavian Home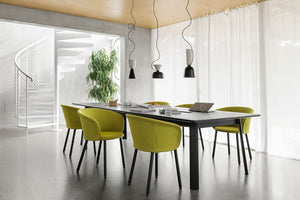 There are three things I look for in a dining chair. 
First and foremost is comfort. The function of a chair is for you to sit, and sit well, not for your lower back to be in pain by the end of a meal. But while I want my bum to be cosy, I also demand the chair is, well, beautiful. When I consider what type of chair works for the Scandinavian home, I am looking for something both minimalist and striking. And last, but not least, is cost. Let's remind ourselves that we're typically buying at least two, four, or six of these chairs to cradle our dining table. That can very quickly add up if you're not careful. 
With that said, here are my five top recommendations for a dining chair that will help you add a touch of hygge to your home. 
This chair is absolutely gorgeous if you ask me, it stopped me dead in my scroll. To be fair there does not look to be much in the way of lumbar support here, though I do imagine the leather back will soften over time and grow increasingly comfortable as it does.
At $345 per chair, this is at the higher end of what I would be willing to shell out for a dining chair, and is perhaps best suited for the dining nook rather than the eight-seater set. 
At a more reasonable price point is the Odger chair by IKEA.
The rounded back and stool of this chair makes for a sturdy and comfortable seat that's easy to keep clean. The simplicity of the design captures that minimalist vibe that really makes a Scandinavian home.
My personal preference is the blue version, but there are multiple options to choose from. And as with all things IKEA, you can feel pretty good about the $89 price tag. 
The seat and back are made from polypropylene - a highly recyclable plastics material.  It almost reminds of a classroom chair, and carries the minimalist scandi vibe, even if you choose to splurge for the upholstered version.
At $195 this side chair comes at a surprisingly wallet-friendly price point from this high-end Danish design shop where dining chairs can run you 5x that. 
Now, if you want to know where my heart truly lies, it's with the Kendo Chair by LucidiPevere for Swedish furniture company Hem (one of our curated partner brands).
This upholstered dining chair is both striking and unique, and looks as though it is just longing for you to nestle in.
With two small kids spilling pasta all over the place I would never even consider these for my own home at the moment, spotcleaner or no. But the second they're off to college I'm putting in my order.
This is the priciest dining chair on my list, at $499 a pop. 
I love saving the best for last. Behold the Marcel Breuer Cesca Dining Chair.
Image via Almostmakesperfect.com
It is said that the Cesca chair became known as the chair you would see everywhere. For good reason I say, it is timeless and lovely. It's also extremely comfortable. There is a slight give in the cantilevered design that makes this the kind of chair you'll want to keep sitting in long after dinner is done. 
For an affordable and high-quality replica of this chair I came across a small Chicago-based company, Seats and Stools. You can easily customize your own configuration, with different options for seat and back, as well as wood finish. Though to stay in that Scandinavian sweet spot, I'd recommend sticking to natural wood and cane backing. Depending on your design, the price of the chair ranges from $136.99 - $176.99. 
For more inspiration, check out our Pinterest board. Also, we're dying to know, which Scandinavian dining chair do you love? Tell us in the comments below!