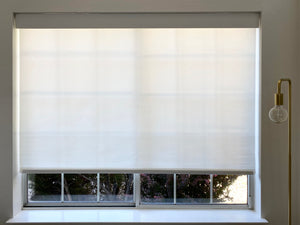 How We Saved Money by Installing Our Own Blinds (and Lived to Tell the Tale!)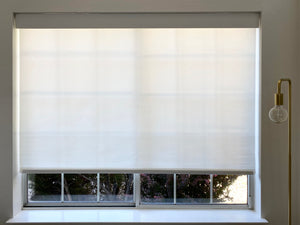 So it turns out Reno, being a high desert town and all, is pretty bright. Not that I'm complaining. But I did always wonder why David never really seemed to complain about the midnight sunshine during summers in Norway.
When we bought this home, it was in large part thanks to the large windows and bright airy feel (despite 65 shades of brown, pink, and oh-I-almost-forgot green carpet). As much as that was a selling point, it also meant getting our window covering situation sorted quick smart. Especially if we wanted our children to ever get to sleep. 
At the outset we were exploring professional installation options from local companies. But as the quotes started to come in, I quickly realized that this would be a far more expensive endeavor than I had first imagined. One such bid came in at more than $6000 (!!!), and this didn't even include any fancy upgrade options such as motorized blinds, or even valances (these are the bars that cover the top of the shades and blinds for a more integrated and streamlined look.) 
$6000 is a large part of our overall budget for this remodel. So we started looking into other alternatives. Curtains were out of the question for me in most rooms (if only you'd seen the drapery my in-laws kindly ripped out for us before we arrived during our mini Reno reno!!)
I quickly found that there are plenty of companies out there that offer pretty decent window coverings at a reasonable cost, as long as you are willing to install them yourself. Score! After spending far too many late-night hours pouring over different online vendors, we went with Select Blinds. They have an extensive offering, and I also learned that there are a ton of different options when it comes to style - whether you are going with roller shades, blinds, or even shutters. 
Before going ham on buying roller shades for every window in the house, we decided to start by testing in just a few rooms: the master bedroom and the dining area (these all face southeast and as such get the most sunlight). That way we could get a feel for how difficult these would be to actually install, and it would also allow us to check out the quality. I wanted to keep the look minimalist, so we went with room darkening rollers in the bedroom, and light-filtering roller shades with valances in the dining area. 
And wouldn't you know it, turns out the install was fairly straightforward. It took us a few tries to really understand the mechanics of it, so it was a bit slow going at first, but once we got the hang of it, we could get a window from start to finish in less than 5 minutes. The mounts themselves can be installed front to back, or back to front, depending on how you want the shade to roll out. The bracket guides are easy enough to interpret, drill holes for your anchors, insert the screws, and Bob's your uncle! 
We were so happy with the results - off we went to measure the rest of the house.
Which brings me to my biggest takeaway from this project and most important tip - measure once, measure twice, and for perhaps even thrice for good measure (see what I did there? ;)). Select Blinds offers some helpful guides for how to go about this. And it is important to get this right, or your new window coverings will simply not fit. 
Another really helpful tip is to wash your hands frequently or wear gloves while installing. Especially when you opt for light-colored roller shades. When going from installing the brackets, to popping on the shades, you can easily transfer dirt and smudge them.  
All in all we spent roughly $1500 on installing roller shades throughout the house. This was less than a third of the cost of professional installation, and far more inline with our overall budget. And in my opinion, the quality far outweighs the investment.  
Are you considering installing blinds yourself and are curious about the process? Leave questions in the comments below!