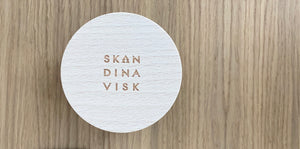 Behind the Brand: SKANDINAVISK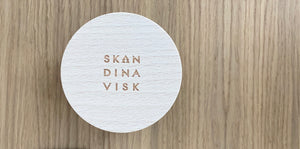 A lot of what we're doing here at Blue House is all about creating a cozy and comfortable vibe in the homes we love, aka hygge. While that makes me think of lush wool blankets and a roaring fireplace, especially in winter, there's nothing like a good candle to really bring that warmth into your home. That's why we are so excited to introduce the latest brand to join the Blue House family: SKANDINAVISK. 
We've had our eye on working with this team for some time, in fact we included their candles in the very first product guide we ever published. Their brand is impressive for a number of reasons, starting with the elegant products they create inspired by Scandinavian nature and culture, but in large part because of their heavy emphasis on sustainability and transparency. 
It all started when a young brit, Shaun, fell in love with a Scandinavian gardener and decided to make Denmark his home. He was joined by a fellow brit and a danish designer and together they set out to build a stunning line of delicately scented candles and fragrant diffusers, not to mention skincare products - all inspired by travels in Scandinavia: from the fjords of Western Norway, to the boreal forests that blanket our little part of the world. 
Fast forward seven years, and SKANDINAVISK has become an instantly recognizable brand - delivering delicate design and enchanting fragrances, and this year they have launched their most sustainable collection yet, entitled The Next Generation. 
Their candle wax base is created with sustainably farmed Swedish rapeseed oil. Hand and body care products are manufactured locally in Denmark - the water source? A deep natural well pure enough to drink. No carcinogens or hormone-disruptors are ever present in their fragrance recipes, and they use recycled bioplastics, glass made up of roughly 30% recycled materials, and FSC-certified cardstock died with natural dyes to create their packaging. 
This company demonstrates such a respect for our environment and takes great care to incorporate these principles into every aspect of the products they create. Pledged to be carbon-neutral by 2025, SKANDINAVISK is a certified B corporation, meeting the highest standards of social and environmental impact, and are proudly enabling positive change in our world. 
It is really quite inspiring. 
It is also quite stunning. 
This week we will be introducing some of the amazing SKANDINAVISK products to Blue House Goods. Make sure to check out the HYGGE candle and diffuser, a comforting and calming scent made with black tea and mint leaves, dried apples and a dusting of baked cinnamon. These are the accents that will warm up your home and truly help create that sense of contentedness we all could use at the moment.
One of my personal favorites is LYKKE. This word means joy in the Scandinavian languages, and frankly I can't think of anything we could use more of in our lives as this long winter starts its approach. It is said that the danes are the happiest people in the world, living balanced lives strongly connected to nature, and SKANDINAVISK has chosen to represent this with a fragrance of snowdrops and rosebuds, carnations and lily flowers. 
I don't know about you, but my hands are already cracked and dry and the winter months haven't even truly set in yet. That is why we are introducing hand wash and lotion from the FJORD line. I can't think of anything more fresh and pure than the fjords carved from glaciers that I grew up swimming in (not to mention rather chilly!!) - represented with scent notes of apple and pear blossom, orchard fruits and redcurrants. Their lush and sustainably made body care products are 100% vegan, and quite simply healing.  
Last but not least, I am inspired and impressed by the transparency of this brand. They strive to be as local as possible, source natural and organic, be ethical and responsible with their business practices, and are open and honest about progress, setbacks, and wins. We are honored to introduce these beautiful products to the growing Blue House Goods collection.
I hope you will love them as much as we do.