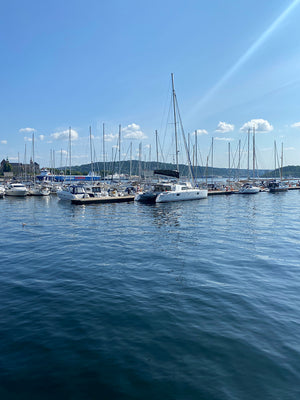 A (Pretty) Complete Guide to Summer in Oslo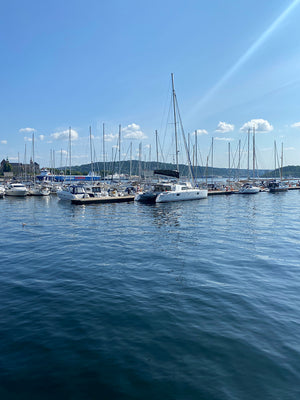 As I sit here reflecting on the summer that Sofie and I just spent in Norway (two weeks of quarantine upon return leaves ample time for reflection), I find that I could easily summarize it in just three words - family, "fellesferie" aka common vacation, and perhaps most importantly - lots of ice cream. Yet, as I think about our days, I realize they were filled with more adventures than I can count, each better than the last. So as I look to summer 2021 as the next likely opportunity to visit home, I figured why not take stock and share our favorite adventures for a sweet summer in Oslo.
1. Swimming in the Fjord! 
Ok, so you obviously need to dip your toes in the Oslofjord at some point. I promise you it is not THAT cold. (Do remember to check for jellyfish though.) 
Whether you can finagle your way onto someone's boat, or take advantage of the vast and reliable public transportation system to make your way to any of the many beaches, islands, coves, or swimming areas in or around Oslo - nothing screams Norwegian summer more than drying off the cold water in the warm sun (preferably on a rock of the larger variety). 
"Å ligge på et svaberg, og bare være til. Å kjenne solen varme, i en luft som er så mild. Det er hva jeg kaller en smak av honning." - Delillos
Among our favorite spots to visit is the man made beach at Tjuvholmen, tucked below the sail-shaped Astrup Fearnley Museum though it can get pretty crowded on a hot day. Hovedøya is a short ferry ride from Aker Brygge, and here you'll find a forested island that offers plenty more adventures than just the two beach areas on the west side. If you hop the 30 bus out to Bygdøy peninsula, you can visit Huk, or follow the path down to Paradisbukta (meaning Paradise Bay) and find your own secluded spot. 
It's even possible to swim in the Aker river in areas like Nydalen (though I can promise you that this will be an even colder experience than jumping in the fjord).
2. Interior Design Shops
I LOVE LOVE LOVE shopping and sourcing home goods when in Oslo. 
There is something particular about the interior design shops you can find all over the city, from Pur Norsk at Majorstua, to NoDe in Nydalen, to Hay House Oslo at the bottom of Bogstadveien, to Norway Designs and Illums Bolighus downtown. The layout, the selection, the level of design, and quality of materials and goods, it is simply splendid.
From high-end to everyday wares, I could literally walk for days perusing all the amazing shops and department stores with a beautifully curated collection of Scandinavian furniture and home goods, all of whom played a big part in inspiring Blue House Goods. 
I can't promise it will be gentle on your wallet, but I can promise it will be worth it.
3. Hadeland Glassverk
About an hour outside of Oslo (45 mins from the airport) is Hadeland Glassworks. 
This incredible property houses the storied glass blowing factory and studio, which just happens to be the longest-running industrial company in Norway, and displays stunning work from the past 250 years (including a plentiful display of pendant lamps that had me at hello.)
You can watch the glassmiths at work and even try your hand at creating your own "work of art" if you have the patience to wait in line. (Norwegians are excellent queuers to be fair) 
Beware of going bananas in the factory outlet onsite, though I am happy to report all my glassware and ceramics miraculously made it home in one piece.
4. The new Deichmanske library at Bjørvika
Bjørvika is an area that has been under intense development over the past few years. This year saw the opening of the new Deichmanske library, just steps from the now well-known Opera House (may I also recommend a visit here, if only to walk on the roof!). 
Architecture firm Lund Hagem and Atelier Oslo won the bid to design the building in an international competition back in 2009, and envisioned the city's main library as an open air multi-level environment that is simultaneously an intricate marvel of secluded experiences, decorated with the work of Scandinavian artists and designers.  
It is a sight to be seen and explored. But do keep your voice down, it is a library after all.
5. Utepils 
Ok, so people may complain about the steep price tag that comes with booze in Oslo, but there is literally NOTHING better than that very first utepils (translate: outside beer) of summer. 
We Norwegians are all about outside seating, so there is ample opportunity to find a table in the sunshine, order yourself an ice cold beer or five, whether in the park, at the waterfront, or in the bustling downtown. If you plan on going full "Norsk," strictly speaking this beer should be accompanied by a pile of fresh cold-water shrimp to peel and eat. 
Nothing makes me more homesick than the thought of the above. Sorry fam. 
6. A stroll around Sognsvann! (or anywhere in Nordmarka really.) 
One of Oslo's very best features is the close proximity to nature. 20 minutes on the subway and you find yourself smack-dab in the middle of the forest, and Norwegians know how to really take advantage of this in every season and at every opportunity. 
In my opinion you can never go wrong with an refreshing evening stroll around Sognsvann, a small lake in the northern part of town. But there is plenty more to explore, areas like Nordmarka are dotted with lovely little tourist cabins, including the newly completed Fuglemyrhytta designed by Snøhetta - an architectural marvel with panoramic views of the city. It is even open for overnighting, if you can find an available slot. 
I will warn you though, the bathrooms are outside.
7. Ice cream! Ice Cream! Ice Cream! 
I am not totally sure whether Norwegian softserve, called simply "Softis" , qualifies as a standalone adventure, as it is highly recommended that you weave this particular activity into pretty much everything you do. Warm day in the sun? Softis. Shopping your way through the city? Softis. Visiting a glassblowing factory? Softis. Read a bunch of books at the library? Softis. The perfect dessert to a shrimp sandwich? Softis. At the end of a strenuous hike? Softis. 
Awake? Definitely need Softis. 
Have you spent summer in Oslo and have more ideas for fun adventures? Comment below!