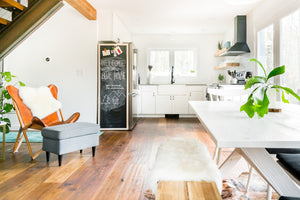 Announcing: Blue House Cabin Kits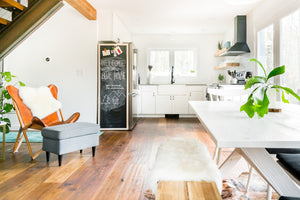 The goal when building the Catskills Blue House, and setting this up as a rental property for others to enjoy when we weren't able to (turns out you can't go upstate EVERY weekend), was simply to build a little hytte in the woods and find a way to set it up so that it was not a financial burden on our family, but rather an investment in our future. 
But soon we started hearing from others – friends who visited, guests that came to stay, families, young couples – about their aspirations to build their own escape, questions about how we did this, and learning that there were so many who were dreaming of building their own version of what we had created. That they were looking for advice and guidance, and that we might just be able to help them. 
Since then, in working with clients and helping them realize their own projects, I've learned that oftentimes the biggest challenge can lay in just getting started. The lack of information can be overwhelming, and building a reliable network and knowledgeable team to support you through the process is difficult, yet invaluable. But to get where you're going, you've got to start somewhere!
And Blue House is here to help. Whether you are looking to remodel your dream cabin, set up and manage your second home as a short-term rental property, or furnish your new space from top to bottom with an eye to the Scandinavian aesthetic - we have the Kickoff Kit you need. 
Now, what is a Cabin Kit you say? Well, these are packages designed to help answer all those unknown questions at any stage of the process, provide resources and information, and help you as the client define and execute on what you want from a second home. 
For instance, the key to any successful remodel is a clear vision and plan before you even speak to your first contractor (and yes I said first). The pillar of our Cabin Remodel Kickoff kit is a virtual workshop and site visit, where we will work together to define the overarching vision and preliminary plan for your renovation project, from the style of design to your individual financial parameters. Our checklists and guides spell out the roadmap to realizing that vision, and we will provide you with the resources you need to take those next steps. 
But perhaps you already have a second home and are curious about how to turn this into a profitable investment through short-term rentals? The Blue House Property Rental Prep kit is jam-packed with essential resources for getting started - customized inventory and equipment checklists, our recommendations for vetted providers of both services and goods, and last but not least our tips for marketing your rental (no one is going to come stay if they don't know your amazing home exists!).
Last but not least, we wanted to offer clients the opportunity to create custom Blue House bundles when furnishing their second home with our New Cabin Interiors kit. Our virtual consultations mean that design is always collaborative, though Scandinavian at heart, and we provide research and sourcing support across our trade partners to help hunt down those perfect details that make a house a home, or better yet – a hytte.
We are so excited to bring the experience and resources we have compiled over the years directly to you in a virtual format! Our goal with these kits is to equip you, the client, with the tools you need, and the answers you are looking for, in order to realize the vision you have for your second home. 
We were not the first, and certainly won't be the last to learn that building a cabin is a lot of work, especially in a remote location. But that in the end, it's all very much worth it. Check out our Cabin Kits and schedule a consultation call to discuss your needs.