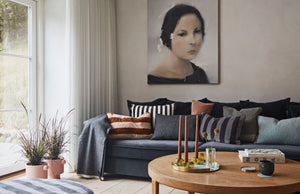 Brand Spotlight: OYOY Living Design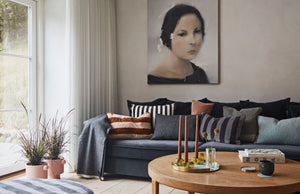 OYOY Living Design is a Danish home goods brand founded by Lotte Fynboe in 2012. Image courtesy of OYOY. 
So the first time I came across OYOY Living Design was at the AD Design show in New York. For months I had been on the hunt for some sort of wall hanging for my daughter's room. Even going so far as to sign up for a weaving class under the bonkers idea that I was going to weave a wall rug of my own. Anyway, I digress.
Walking the corridors of the exhibit, I turned a corner and there it was, staring me right in the face - the absolutely perfect wall rug, a rainbow just like the one I had as a kid. And that wasn't the only OYOY good I fell in love with that day. If I'd had my druthers I would have made off with every piece in their collection, from bedding to knick-knacks. But for the time being, I made do with my perfect new wall rug.
The perfect wall rug for a kids' playroom or nursery. Image courtesy of OYOY Living Design. 
With them just having started to make inroads in the US market at that time, I would come to learn that OYOY Living Design is a Danish brand of home goods for children and adults alike, founded by Lotte Fynboe at the beginning of 2012. The name is inspired by the signature of Danish airplanes since 1929, OY. 
The brand has a very playful approach to Scandinavian design. Some fundamental principles are certainly evident in their goods – a respect for natural materials, a tradition of simplicity – OYOY creates functional goods for the home that add a sense of brightness, color, and play. Their goods are a celebration of childhood memories, as much as they are useful items we rely on every day in our house. 
Set your kids' table in style with useful and sustainable goods that are easy to keep clean. 
 Let me just tell you about these silicone placemats, not only are they fun and cute and an excellent way to lure your children to the dinner table (coupled with some playful bamboo dishware). They are easy as you-know-what to clean. Between the placemats and the Oka tray and coasters, I am an official convert to the material.
The Sporta wall basket is another absolute favorite of mine. I love the way it looks hanging from the coat rack in the entry, and it's so nice to have somewhere to shove all your shit when you walk in the door. Particularly in winter with 40,000 pairs of gloves and hats to keep track of. 
Obsessed with the Oka Tray and Coasters.
OYOY dropped its 2020 collection a few days ago, adding 75 new designs to the portfolio. It's literal torture waiting to get our hands on the new bibs (silicone for the win yassss), dishware, wall-mounted headboards, and OH MY GOD IS THAT A LARGE VERSION OF THE SPORTA WALL BASKET?  Let's just say we're excited to bring you more from this inspiring and lovely Scandinavian home brand, and others.