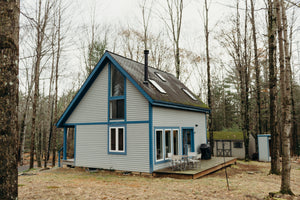 How the Blue House Began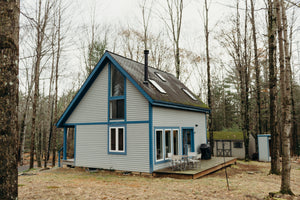 I don't think either David or I had any clue how much building the Catskills Blue House would come to change our lives when we started. At the time we were a young and carefree couple living in Brooklyn, working 60 hours a week, and just dreaming of building ourselves a little escape. Easy right? That all changed fairly quickly. The week we went into escrow? That was the same week I let David know he was going to be a father. 
Believe me, there are plenty of things in life that I google my way to figuring out, but when it came to building a house in the Catskills, it was hard to know even where to begin. (Frankly, I had better luck googling "how to do baby.") Fortunately, David's parents are in real estate and were able to help us find a great local realtor to start the search. 

Feeling pretty happy with myself having finally found the perfect someday hytte. Let's not discuss the bangs.
It's funny but looking back I realize we had two very different visions in mind at the outset. David imagined finding the perfect plot of land and designing a modern stick-built or modular prefab home. Personally, I was on the hunt for a three-bedroom dilapidated piece of crap that we could lovingly restore over the years. We ended up with neither. And thank god for that!
Our realtor, Helen, became the perfect partner for us. We would schedule Airbnbs for weekend trips, and she would plot our course of open houses all over the region. Plenty familiar with the standard procedure for young couples from Brooklyn with dreams of building upstate, she knew to show us just enough of everything. I still remember standing on the third floor of a farmhouse close to Stone Ridge. Through the floorboards, I could see all the way down to the basement, where a veritable river ran through, and thought to myself, 'well that's not gonna happen.'
Then we found the Blue House. At first, we had overlooked the option. The one thing we did both agree on was that we wanted three bedrooms (the Blue House has only two), but Helen knew to keep it on our radar. Something about the shape of this little house with big windows perched on a wooded plot of land, how modest and quaint it felt, piqued our curiosity. We had to drive up and see it in person. 

The original staircase and pantry. We removed it and designed an open staircase.
From the moment we walked in the door, we knew we had found our perfect, happy medium. It would take some work, for sure, (I mean, who just cuts a hole in the exterior and sticks a window unit air conditioner in it, but ok) but the bones were there, and it became clear that this would be the home we would turn into our little hytte. 
So here we were, with a lovely little cottage in escrow and two major projects underway - operation baby, and operation Blue House. The next step would be to find a team to help us with the renovation. We sourced no less than 10 proposals from different contractors in the area, and in hindsight (2020 being the year for that after all), I realize that not one of those proposals was anywhere NEAR realistic. It would take us close to a year before we could call the Blue House complete, and still today, years later, I feel like there are a million projects ahead. 

Gutting and rebuilding the master bedroom closet.  
I hate to describe it as a labor of love, but this incredibly corny expression feels like the only way to describe it. Because we loved (and hated) every minute of it. The hours of driving to meet contractors that didn't show. Making on-the-fly design decisions when they did. Sourcing just the right materials, fixtures, and finishes from anywhere we could get it. Managing deliveries, delays, and vendors. Not to mention battling our own inexperience. (Ooooo I can't wait to drone on and on about all the little details in future posts!) 
Anyway, all the little things we learned while building the Blue House, the endless negotiations, phone calls, research, spreadsheets, and decisions required to push our project across the finish line, somehow added up to not just a hytte for our little family, but to a whole new direction for our lives. 
Sheesh, I was heavily pregnant towards the end. Sofie was here by the time our punch list was complete. 

We had known remodeling would be hard, but we also knew there had to be a better way to do this. For David, it became an opportunity to build software to strengthen communication and collaboration between homeowner and contractor. For me, it became an opportunity to bring a little bit of Norway to our life here through Blue House Goods, and a chance to spend my time helping others create their own vision of a hytte.