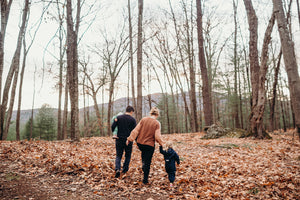 Things to Do: Catskills, NY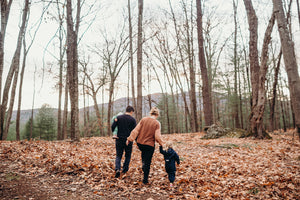 I had been living in New York City for almost three years when I first visited the Catskills. 
I remember my father telling me stories of kayaking and hiking, of Bob Dylan and Woodstock, and of the sense of familiarity he felt here during his tenure in the US in the 60s and 70s, but I hadn't realized how true that would ring for me. 
From that very first upstate adventure – waking up to the sound of a rushing creek and rambunctious wildlife, fresh, fume-free air rustling through the trees, hiking for hours and watching the stars peek out as night fell, I knew I had found a little piece of home, a place that felt a bit like Norway, only a few hours away from my minuscule shared apartment in Chelsea. 
Eventually, we built a second home in the Catskills – the Blue House – and now this is my safe haven, a place I can escape to in order to get back to the little Norwegian inside, and a place I bring my children to give them a taste of the childhood I had, running around in the forest, climbing mountains and inventing my own adventures. 
There is so much to do and explore in the Catskills region, and as the area continues to thrive on the influx of burnt-out Brooklynites - it seems there is a new must-see town, must-do hike, must-eat restaurant, or must-drink brewery for every trip we take. So whether you're taking a family vacation, or enjoying a weekend with your homies, here are a few places you need to check out.
Every season brings opportunities for adventure in the Catskills. In the summer and fall among my favorite hikes is the Giant Ledge - a relatively short but steep climb that dumps out onto, you guessed it, a giant ledge overlooking the region. Feel free to keep trecking on to Panther, I'll be here with my to-go cup of wine. 
(Note that this is a fairly popular trail, so while you definitely won't get lost, you'll also have plenty of company.) 
Kristen Kimmick, Giant Ledge and Panther Mountain Trail

Another hike with a fantastic effort-to-payoff ratio is Overlook Mountain in Woodstock. Personally, I am deathly afraid of heights and wouldn't climb to the top of the fire tower if you paid me, but the two-mile hike up is pleasant and the views are worth it.
It's probably more treacherous to drive up to the Vernooy Falls trailhead than the actual hike itself, but it's a lovely stroll that leads to a hidden waterfall in the woods. Feel free to dip your toes in the water, but given the shade, it's likely to be pretty nippy. 
On the topic of water, there are several "hidden" swimming holes in the Catskills. The Peekamoose Blue Hole is the most well known but crowded and (now) restricted for good reason. Our go-to is the Big Deep in Woodstock, a lovely little lagoon surrounded by forest. It's popular but visitors are for the most part quite respectful of the area (carry-in, carry-out guys!) and the shallow water is just what you need when summer is at its most humid. 
If you're looking for a bit more adventure, you can rent equipment for tubing or kayaking the Esopus river from Town Tinker Tube Rental in Phoenicia. Note, this is not so much a "lazy river" as it is a whitewater rapids adventure, so not for the faint of heart! 
There are three downhill ski resorts in the area - Hunter, Windham, and Belleayre. If you're used to the West coast, or in my case, Norway, you may not be too impressed with the size of the mountains, but it's good fun all the same. 
Belleayre

is a local ski resort near Phoenicia that has recently undergone major upgrades such as the installation of the Catskills Thunder gondola and the opening of additional trails. Ski passes are reasonably priced, with student passes and discounts during the week. 

Windham Mountain

is a major New York ski resort, offering 50+ trails, 12 lifts, and no less than 6 terrain parks. Night skiing is possible on a limited number of trails.

Hunter Mountain

is another popular ski resort upstate, with bus service from the city, they added five trails and a new lift this season. In summer Hunter mountain is also well known for their Zipline Canopy tours, not to mention that it is also home to the Mountain Jam festival - think Father John Misty in camper chairs. It's excellent, to say the least. 
I was over (clap) the (clap) moon (clap) when I discovered the Mountain Trails Cross Country ski center in Tannersville. When conditions permit, they groom close to 35 kilometers (yes they measure in kilometers!!!) of trails for your enjoyment. Don't have the right gear? They also offer ski and pulk (basically a sled for the little ones) rentals on-site on weekends and holidays, not to mention lessons. 
And it doesn't stop there, there are a bunch of local yoga studios, spas, and gyms dotted throughout the Catskills. It is a popular area for biking, and don't be surprised to see the occasional rollerblader along the Ashokan Promenade! Also, make sure to check out Rail Explorers to try your hand at rail biking along the Esopus.
As much as a visit to the Catskills is an opportunity to snuggle up by the woodburning stove with a pile of board games, it's also a chance to tap into your inner Norwegian and get outdoors - with plenty of options for fun. Just don't forget - "ut på tur, aldri sur!"