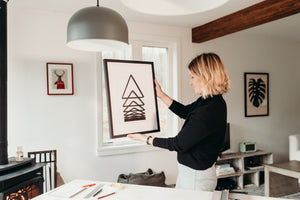 How to: Frame a Print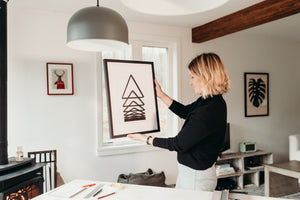 If you've ever hung a piece of art on your walls (which I do hope you have!) you're aware that having the artwork framed is NOT cheap. My husband and I tend to collect pieces when we travel, often higher in sentimental value than monetary, bring them home, and then spend a small fortune shipping them off to have them framed. 

Once I found myself complaining about this dire plight to a good friend, and he quickly informed me that I was going about framing my collection in entirely the wrong way. Why have someone frame it, when I could just do it myself? Before you knew it I had a mat cutter in hand, and I've never looked back. 
Here's a quick and easy guide to framing your own prints, saving a pretty penny in the process.
Step 1. Materials - here's what you are going to need:
Step 2. Measure your print!
And then measure it again! Even if you already "know" the dimensions of the piece, it's always important to measure the exact dimensions of what you want to frame. Otherwise, you're more likely than not to fit a frame that doesn't work.


Step 3. Determine your frame + mat size.
It's a personal preference whether you want your mat to be wide or thin. You'll want to subtract the width and height of your print from the width and height of your frame and mat. Then divide those numbers in half, and you have the width of either side. 


S
tep 4. Measure your cut!
And then measure it again! Mark your measurements with a sharp pencil (note that your markings will be on the back of the board and therefore not visible). 


Step 5. Go for it.
Lay your mat board on the cutter, using the dimension guide to align with the blade. Press down on the blade and push steadily until you reach your corner mark. Do this on all four sides and pop out the middle piece. 


Step 6. Mount your artwork.
Using framing tape, align your print with the mat window and attach it to the back of the board (facing forward of course). Pop open your frame, carefully lay your matted print on the glass and close the backing. You might choose to double mat your print. If so, you'll have cut a second piece of mat board to the size of your frame and used an adhesive to attach this behind the print for added protection.



And Bob's your uncle – you've framed your own print at a fraction of the cost. (And by the way, if this all sounds a bit much, don't worry, we offer those prints framed as well ;))