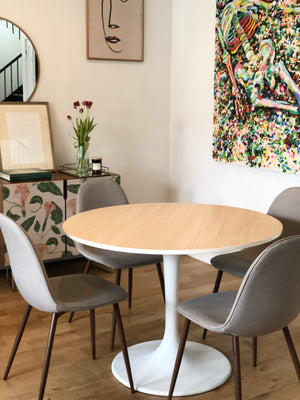 How to Hack a High-End Ikea Table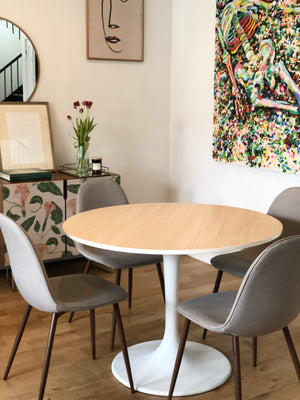 So here's the long and short of it. When we moved back to Brooklyn after Isa was born, I made my mandatory we-are-furnishing-a-new-place Ikea trip and lugged home the Docksta as a "temporary" replacement for our cardboard box dining table. The Docksta is clearly a ripoff of the Saarinen Tulip Table, but I tell myself that this is ok, because no one is going to mistake a $199 fiberboard Ikea table for the real thing.
On one hand, you get what you pay for. And while I love the look of this table, it didn't take long before it started to wobble. About a year in, the laminate on top started to pucker, leaving small brown bumps on the surface. Not a great look. But with two young kids that eat, scribble, and drool as a habit, we've gotten good use of this table. And before I'm willing to send her quietly off into the night, I want to give this girl one last shot at the big time. 
So here we are. I start to do my research. 
It turns out the Docksta table is notoriously difficult to refinish, just give it a quick google and you'll find plenty of failed examples. The tabletop is made of fiberboard and white vinyl paint which presents a whole host of issues. Stripping the laminate and refinishing is not an option.
What. to. do. 
Enter my sister-in-law (who happens to be a Hollywood set decorator with a handy disposition and is often my first call when DIY projects go awry). Her solution was simple and straightforward, suggesting I use contact paper to cover the top. You can find great options for patterns and designs, and the material is more durable than you might think. A quick search on Amazon and my supplies were en route.
Here's what you're going to need:

Contact paper (I used this maple wood version I found on Amazon) 
Utility Knife
Measuring Tape
Painter's Tape
Scraper
Pencil
Step 1: Prep your table
You'll start by cleaning the table thoroughly. You actually have to do this though. Any grease, dirt, or dust will get trapped under the adhesive and leave bumps in the surface, or worse, cause the adhesive not to stick. Remove any existing puckers on the surface with a razor or the upper edge of your knife. 
As an aside: At this point, I also took the opportunity to flip over the table and take care of the wobble by tightening some screws. Ikea actually recommends you do this two weeks after installing a product, and at regular intervals after. You'll often find Scandinavians wandering around their homes, hex key in hand, searching for even a hint of a quiver in their furnishings. The Docksta is a pretty heavy table, the base being part steel, so you're going to want a buddy to help you with this. 


Step 2: Measure and Apply
Measure your surface and contact paper, most self-adhesive vinyl has a measurement grid on the backing which makes this easy. Make sure you leave a few extra centimeters of contact paper along the border. I did the surface of the Docksta in three sections, but this will depend on the width of the material you've chosen. 
Tape your contact paper in place, facing right-way-up. Hold at an angle to the tabletop and carefully start to peel the backing off the bottom of the sticker. Remove backing slowly and adhere to the table, all the while running your scraper along the surface to remove any air that might be trapped and creating bubbles. Holding the decal folded back makes for smoother application. 
Repeat this until you have covered the full surface. Then run your utility knife along the edge of the table to remove the excess vinyl. (This is delicate work, so doing it with two kids running around is probably not ideal timing, but these are crazy times so I'm going for it anyway.)
And tada! Basically a brand new table. 
Look, this is not a permanent solution, but we can probably get at least another year out of this table, and with the new laminate top it gives off a whole high-end vibe that I definitely didn't pay for. I believe that making do with what we have is always important - the best way to live sustainably is to reuse. So before you replace, consider how you might refurbish!
What do you think of this simple Docksta hack? Leave a comment and tell us what you think or share ideas for other refurbishing solutions you'd like to see me try!