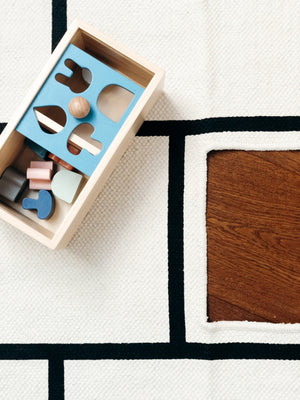 Kids Products Under $100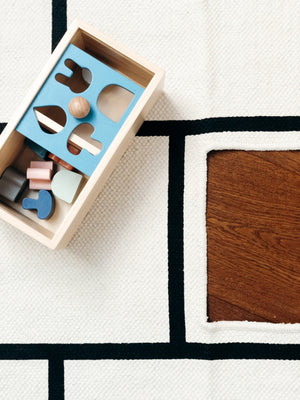 As I sit here writing this, I am simultaneously having a standoff with my toddler about putting the caps back on her washable markers. It's as though it is a daily game of taunting me by removing them one by one and leaving them out to dry. Then complaining when none of her markers work, and demanding I replace them. This, my friends, is becoming a costly affair. 
It's no secret that having kids comes with a pretty steep price tag. And there are certainly some items that are worth investing in. But I would never scoff at a good deal if I can find it, especially when it checks all the boxes on quality and style. Here are a few of our favorite items, under $100. 
OYOY Wooden Puzzle Box 

I always have my eye out for wooden toys with a reasonable price tag, and this Wooden Puzzle Box from OYOY Mini has been a major hit with my youngest. She will literally sit for hours sorting and playing (diligently developing her fine motor skills), giving me a chance to have a sip of coffee, and maybe even the occasional shower. What is more, it's a beautiful piece that I'm more than happy to have on display in our living room. 
Barbo Toys Moomin Doctor Set
Another toy with rave reviews in our house, is this Moomin Doctor Set from Barbo Toys. We picked this up during a trip to Oslo a few years back, and I can't get over how awesome a find this was. Not only is this an inspirational and educational toy for the little ones, but unlike most toy doctor kits, it actually works! The stethoscope functions, making it a serious hit with the girls AND all their cousins who played doctor non-stop for months. 
KAOS Paradishopp Hopscotch Rug
The girls' bedrooms are my favorite rooms in the house to decorate. There is so much that can be done with a bucket of paint and some ingenuity, but it's really the little details that tie it all together. And when those little details come with the right price tag and style, I quite frankly get pretty excited. This Paradishopp rug (translate: hopscotch) from KAOS brings me right back to the schoolyard, and is the perfect pop of fun for the floor. 
KAOS Peach Cotton Baby Bed Set
By now you know that I adore pretty much everything KAOS designs, and this peach organic bed set is no exception. Not only is this duvet and pillow case set made of organic cotton with a colorful geometric print, but they've added clever ties to the sides that makes it easy to fold up and pack with some essentials: perfect for Friday sleepovers with the grandparents! 
(And what's more? It's on sale at the moment. Løp og kjøp!) 
Liewood Savannah Baby Pool 
Let's not forget that it's summer at the moment, and a little paddling pool is essential for keeping cool on those hot days, at least in our backyard. This Liewood Savannah baby pool is made from phthalate-free PVC (if you're gonna recommend plastic it needs to meet high standards and be recyclable IMO), and comes in a variety of delightful colors and patterns. 
Polarn o Pyret Rain Boots
But let's be honest, the sun doesn't always shine in summer, and on those rainy days a good pair of wellies is a must for splashing in muddy puddles. Frankly I wish these Polarn o Pyret rainboots came in adult size as well, that's how cool they are. 
You'll be happy to know that I finally convinced Sofie to clean up all her markers before she stormed outside to hop on the trampoline and splash about in the kiddie pool. She doesn't know I got it at a bargain. But I do. And so all parties are satisfied in this case.