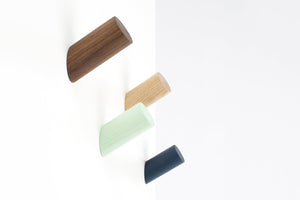 7 Stylish Wooden Wall Hooks for the Scandinavian Home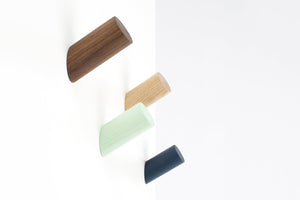 Like most Scandinavians, I am of the firm opinion that your home is not, in fact, fully furnished until there is an ample number of wall hooks for easy storage throughout your home. From your entryway to your bathroom to crappy command hooks on the inside of every closet door, hooks are legit THE most useful furnishing in your home. 
But it's not so easy to find the perfect wall hook! We're always on the hunt for something simple, clean and minimalist, preferably wooden, relatively easy to install yet durable, and most importantly functional - ain't nobody looking for a wall hook that doesn't hold your stuff. (An awful lot of specs for a hook I know.) 
To make your search easier, here are seven of our favorite wall hooks and coat racks for the Scandinavian home and hytte.
Peg Hook by
Jonah Takagi

Available at Hem for $39 


The Hem Peg Hook by Jonah Takagi is a simple and versatile wooden hook that would work well in pretty much any room in your house. The angled design is what makes this minimalist hook functional, and you can group one or more of these together without cluttering up your space - just make sure to anchor it well when mounting as there isn't much leverage in this very simple, yet stunning wooden hook. 
What we love about it? The simplicity. 


---
The Curve Hook by Peter Johansen for Normann Copenhagen
Available at Danish Design Store for $27


Another clean and simple, yet stylish option is the Curve Hook by Peter Johansen for Normann Copenhagen. The elegant design, reminiscent of the letter J, makes for a modern and highly functional hook that will hold your accessories and coats firmly in place. Use as a standalone hook, or group a few of these together in your entryway to greet your guests with that minimalist Scandinavian vibe.  
What we love about it? Elegant and functional design, for a modern look. 


---
The Dots by Lars Tornøe for Muuto

Available at Muuto for, prices vary
 
You can't put together a list of Scandinavian wall hooks without including The Dots. Designed for Muuto by the award-winning Norwegian designer Lars Tornøe, these round hooks are a more playful version of the traditional wall hook and a staple in many a Scandi home. It's available in several sizes, colors, and materials (wood, metal, and ceramics), which means you can mix and match your Dots to create your own unique, contemporary space that screams Scandinavian design. 
What we love about it? The playful take on minimalism. 


---
Layertree Steam-bent Wooden Coat Hook 
Available on Etsy for $16


When searching for the right hook, don't forget to check out some of the smaller manufacturers that are selling their stuff on Etsy. We found these simple steam-bent wooden coat hooks from Layertree, a modern, functional design that you can customize, not to mention that they are super simple to mount and sturdy.
What we love about it? Strong, sturdy and simple. 


---
Hay Coat Rack 

Available at Hay for $145 


Now, if mounting individual wall hooks seem like a higher effort-to-payoff ratio that you're into, consider something like the Hay Coat Rack. The accordion design is efficient and elegant and is frankly as much a piece of art as it is a functional coat rack. 
What we love about it? It's so pretty it's basically art.


---
Mid-Century Modern Wall Multi-Hook

Available at Urban Outfitters for $39
 
For the Catskills Blue House entryway, we fell in love with this mid-century wall rack from Urban Outfitters. It's highly functional and can hold a whole family worth of coats and crap, but still looks good and won't cost you an arm and a leg. 
What we love about it? Reliable and reasonable. 


---

Available at Rejuvenation for $150


For an all-wood version of the above, check out the 10-Fin Hook Rack by Brendan Farrel for Rejuvenation. Another stunning, yet simple coat rack, we picture this as the perfect towel rack for your sauna (a serious must-have at the Scandinavian hytte, we'll get to that later).
What we love about it? The Scandinavian sauna vibe. 


---

For more product guides and Scandinavian home decor tips, check out our resources.

And of course, if there's a particular item you're still searching for, feel free to leave a comment below and we'll make sure to hunt down the best of Scandinavian home goods for you.