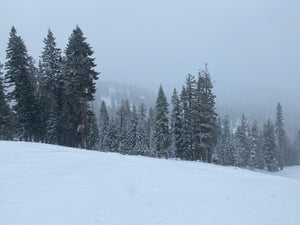 The Norwegian Mountain code aka "Fjellvettreglene"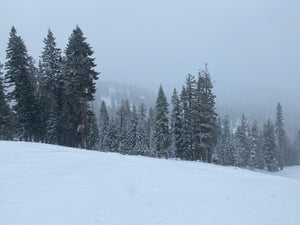 Today was our first ski day of the season, and honestly it was the most this-feels-like-real-life day I've had in, well, in 2020. 
The sun wasn't exactly shining, but who cares!?! No such thing as bad weather, only bad clothing as they say! (Well, at least in Norway we say that.) Fresh mountain air, feeling those legs burn and really moving for the first time in months. It was awesome! And we've been so looking forward to this. I mean, from cross-country with the girls to downhill dates with David, this is how we're going to make it through this winter without going totally stir crazy. 
Growing up I was taught some basic rules of conduct when out skiing. When you're exploring nature you never know when things could go wrong and it's pretty important to be both prepared and responsible. These rules are known as "Fjellvettreglene" - the Norwegian mountain code. 
Planlegg turen og meld fra hvor du går.
Plan your trip and let people know where you're going.
Tilpass turen etter evne og forhold.
Adjust your trip to both abilities and conditions.
Ta hensyn til vær- og skredvarsel.
Heed weather and avalanche warnings carefully.
Vær forberedt på uvær og kulde, selv på korte turer.
Be prepared for weather and cold, even on shorter excursions.
Ta med nødvendig utstyr for å kunne hjelpe deg selv og andre.
Bring the necessary equipment to help yourself and others.
Ta trygge veivalg. Gjenkjenn skredfarlig terreng og usikker is.
Make safe choices of route. Recognize avalanche prone terrain and brittle ice.
Bruk kart og kompass. Vit alltid hvor du er.
Use a map and compass. Always know where you are.
Vend i tide – det er ingen skam å snu.
Know when it's time to stop, there is no shame in turning around.
Spar på kreftene og søk ly om nødvendig.
Save your strength and seek shelter if necessary.
 
A version of these guidelines were first written in the 1950s by the Norwegian Tourist Association as part of a campaign to promote mountain safety. You'll find a copy of them hanging on the wall of pretty much every winter cabin aka "hytte"in the country. 
Much of it is just common sense really, but I doubt my family is the only one planning to spend much of this winter on skis. And if you're heading out there this season, these rules are pretty useful to have in your back pocket, no matter your adventure. 
God tur!