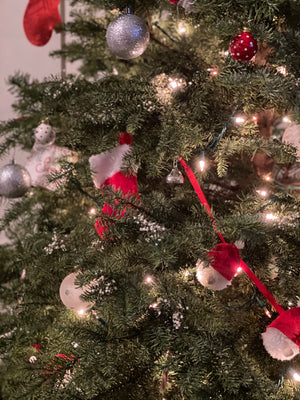 How to Hack Your Christmas Tree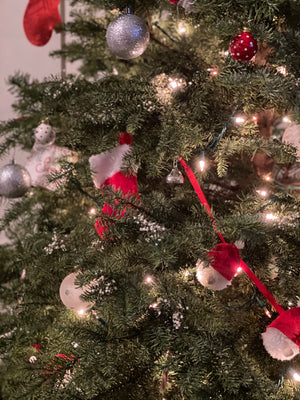 Many Norwegians follow the tradition of decorating their tree on Little Christmas Eve. But this year I wanted a little extra touch of joy in our lives, and marched my whole crew to the tree lot before we'd even tucked away the Thanksgiving leftovers. We found the Norsk-est tree we could, and set to work decorating. 
Now, there are some logistical challenges to having a "dead" tree in your home for more than a month (we typically don't take down ours until the 13th day of Christmas, i.e. January 6), especially in a dry climate like Reno. So I have a few Christmas tree hacks up my sleeve, to ensure our at-home evergreen stays, well, evergreen, all the way through the holidays. 
Lights
Ok first things first: lights. I am still amazed to see articles in Scandinavian press encouraging people to stop using actual candles on their trees every year, and while I appreciate the commitment to authenticity, I would highly recommend LEDs. I would also recommend that these are the first thing to go on your tree once it has had a chance to settle in. Give it a day or two without ornaments to do so. 
My number one tip when it comes to lights is to plug them in and check they are working BEFORE you start arranging them on the tree. This will save you some serious heartache in the event of a faulty string. It pains me to tell you that I know this from experience. Also make sure that when you are packing up to wrap your strands of lights around a piece of cardboard, preferably tubular, so they don't get too tangled. I am not sure how inanimate objects manage to tangle themselves inside a storage container but they most certainly do. 
Also, put your lights on a surge protector or smart switch so they're easy to turn on and off - you don't want to leave them on all night! 
Care
As I mentioned, we're living in a VERY dry climate at the moment. Add to that my obsession with keeping our fireplace lit at all times and cranking up our thermostat to sauna levels, and you've quickly got a droopy, dry tree on your hands. But no matter what your humidity levels are, your tree will need a little extra love in the form of H2O if you're keeping it up all season. To combat dryness I have a humidifier running at all times close to the tree, and from time to time I like to give her a good spritz with my plant bottle. 
Also, to make life easier, we set a daily reminder to water the tree. That way you are certain to feel guilty enough to check water levels at least three times a week. If it's not taking up enough water to need refill that often, you might have an issue with the tree sealing, and the only cure for that is sawing off a little sliver of the trunk. (Which sounds like a nightmare post-decorating but ok.)
Another tip I've gotten is to add sugar to your water. Supposedly you can extend the life of the tree by making a quick simple syrup and adding to your first water. Others recommend adding a little spoonful all through the month. Now, I've done enough internet sleuthing to determine that this advice is controversial at best – it seems your average arborist does not believe this old wives' tale has any impact whatsoever. However, in the interest of experimentation, I've been testing the sugar addition from time to time, and I may be imagining it, but her branches seem perkier as a result. 
This is a new one for me as I am used to the long hours of darkness during Christmas in Norway. But living in the high desert I like to rotate the tree periodically, so that any part of it that is exposed to direct sunlight gets a break. It makes sense right? Cut flowers kept in the shade fare better than those exposed to sunlight. 
Ornaments
Low on ornaments? This year our tree is probably about 3 times as tall as our last one in Brooklyn, so we have had to get a little creative with our decorations in lieu of spending $300 on ornaments at Target. 
One of my best tips is definitely Baby's-Breath. I might even go as far as calling it a staple! A few sprigs of the white flower tucked into the end of the branches make it look like your tree has a dusting of fresh snow, the more of which the merrier. And what's more? You can typically find bunches in the pick and mix section of your local grocery for about $3. This hack is a serious game changer in my opinion.
Another (very Norsk idea) is to hang some "pepperkaker" aka gingerbread cookies on your tree as well. Just make sure to stamp a little hole at the top of the cookies before you toss them in the oven, and decorate as you please with royal icing. Once they're cooled, tie a little red string on and pop them on a branch. Voila, multipurpose Christmas cookies!
But my most important tip of all? 
Stop and smell the pine needles! Take time to enjoy this little change of pace in your home, the strong smell of fresh evergreen for the first few days (by the way you can keep this going with the right diffuser), and the joy of switching your lights on in the morning and enjoying that extra twinkle in your day. 
This year, more than any other, it truly feels like something to be grateful for. 
P.s. Remember to recycle your tree responsibly!