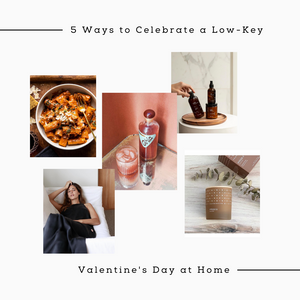 5 Ways to Celebrate a Low-Key, Fun Valentine's Day at Home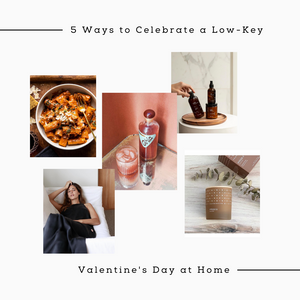 Hello, hello! Nihana here, and I've been waiting to share my February product recommendations with you. With Valentine's Day around the corner, I'm planning on spending the day relaxing at home with some self care and a little indulgence. Here's 5 ways I'm planning on taking some 'me' time to celebrate in my home.
Lower the lights, turn on the music, and light this long-lasting candle by Skandinavisk. We love the notes of black tea, mint leaves, and dried apples with a dusting of baked cinnamon. 
2. Settle in for a nourishing solo or partner soak with Maude's Wind Down Kit
This handy kit comes with a pH-balanced wash, body oil, and your choice of either bath salts or a bath soak. Trust me, Maude's Wind Down Kit creates the ultimate luxury bathing experience.
Want to relax and enjoy a cocktail without dreading the next day's hangover? Make the night last with GHIA's incredible and all-natural no-alcohol aperitif. Need inspiration? Check out GHIA's comprehensive recipe library. Here's my personal favorite.
Half Baked Harvest is one of my favorite food bloggers. She consistently knocks it out of the park with her delicious, simple-to-execute recipes. A bonus? A lot of them are on the healthier side. Trust her Valentine's Day recommendations and prepare an intimate dinner for one (or two) with fan favorite Spicy Pesto Pasta Alla Vodka. For dessert, indulge in her decadent Salted Tahini Butter Chocolate Chip Cookies - they are to die for.
Us ladies over at Blue House Home are huge fans of Lunya and their cozy, high-end lounge and sleepwear. This Valentine's, I have two words that will make your night: washable silk. Slip on this sensual dress and feel like a million bucks. Bonus: It feels like heaven to sleep in. 
I rarely take the time out to sit on my patio and enjoy the sunset or use the tub for a nice, long soak, so I'm using Valentine's Day this year as the perfect excuse to do just that. If you celebrate, what do you have planned for the 14th at home? I'd love to hear about your plans.

'Til next month,
Nihana