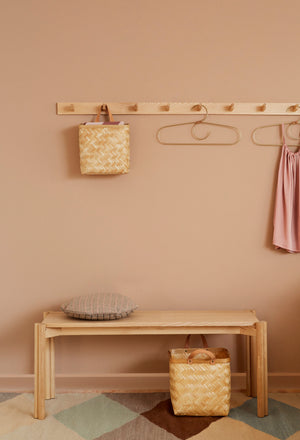 A New Year Means More OYOY And We Love It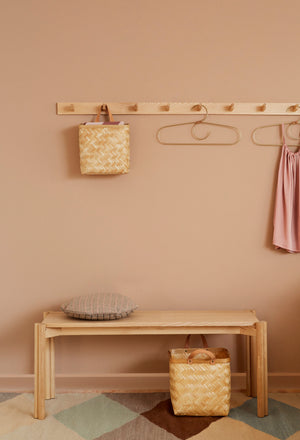 So we've been enamored with OYOY for a while now. And man is it cool to watch this brand grow the way they have over the past few years. It just goes to show you there is a real appetite here in the US for quality home furnishings that are at once minimalist and playful. 
OYOY was one of the brands we launched with at Blue House Goods. And for good reason!
Separated into two collections, OYOY Living Design and OYOY Mini, they adhere to some fundamental principles that really speak to us: a respect for natural materials, and a tradition of simplicity. Theirs are functional goods for the home that add a sense of brightness, color, and play. An elegant celebration of childhood memories and family life, as much as these are useful items we rely on every day in our home.
We first met at a design fair and it was love at first sight. I was on the hunt for a wall hanging for Isabel's nursery in Brooklyn. There they were, with not just the perfect Rainbow wall rug, but also a collection of the most delightful home goods that reminded me of my childhood home. They were a young brand hungry for a chance to break into the US market. 
OYOY was founded by Danish designer Lotte Fynboe in 2012. By the time I came across her business they had already established a foothold here in the US, but today they have grown to be a staple brand in Scandinavian home goods. In our house, OYOY has become part of our day to day, from the wooden toys the girls play with all morning, to the placemats we use at dinner time.
It's time for Blue House to expand our footprint in the home, and with that our collection from OYOY. As I'm sure you can imagine, we're subject to some of the logistical challenges that importing goods from, well, anywhere(?!) brings along at this time. I mean, it's even hard to get your hands on cardboard boxes these days! 
But we've found a way to pull it off and we are SO(!!) excited to soon be able to share an expanded OYOY collection in our shop. We're talking pillows. We're talking towels. We're talking clutch upgrades in the kitchen, and we're even talking furniture. Get ready because we are LOVING it and can't wait to share more. 
As we grow from Blue House Goods to Blue House Home, what items are you wanting to see in our shop? Share your wants and home needs in the comments below!