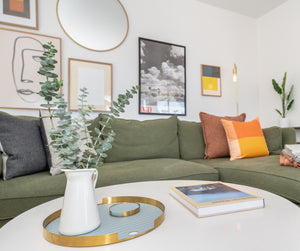 Five Simple Steps to the Perfect Picture Wall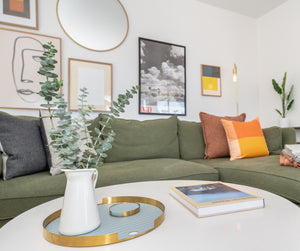 Somehow I feel like gallery or picture walls are a controversial topic.
Some love them, some detest the idea of a cluttered wall. Personally, I am always delighted by one done well. It is an opportunity to learn more about the person or family who has put it together. Where they've been, what they've loved, the story they choose to share.
The various pieces that come together are often gathered over time, prints and treasures we've collected on our travels, artists we admire. Iconic images that speak to us. A great picture wall is a collection of moments in our lives.
Framing services like Framebridge offer picture wall packages such as "The Endless organic." Photo Credit: Framebridge
Our picture wall at the Starr house is, much like the rest of the renovation (hah), a work in progress. But as I am putting it together I have a few simple rules I like to follow: tricks that help me create a playful but balanced backdrop to the rest of the space. Here are my five simple steps to the perfect picture wall.
Find your balance
When determining the layout of your art for a picture wall, you'll first want to consider the size of the space. I am covering the back wall in our den, which is a pretty large area, but there are plenty of opportunities in a home to create a picture wall moment, small or large.
Whether I am working on a full wall or a small section, I like to start from either bottom corner, and hang a few pieces along a 90 degree angle. Then the rest of the layout is sort of a puzzle in which I make sure to balance against that anchor line. Really I am just creating a frame to work within, without being too rigid.
And because I am building this over time, I am also trying to leave space for additional pieces to come, and always keeping an eye out for the next perfect addition.
Dare to mix and match!
This is true for multiple parts of this project. When it comes to choosing artwork, I usually end up with a mix of pieces, some from travels or a random find from a shop I like. These days most of my browsing is happening online, but there is plenty to be found here too! This is all to say that you can play with textures and format, storied or found, old and new.
And the same goes for your frames! Your first instinct might be to go buy a bunch of the same, to make sure your wall looks cohesive. But I challenge you to try different sizes, widths, materials, and textures for your frames, we have other tricks up our sleeve to bring it all together.
While gathering pieces on your travels might be somewhat limited at the moment, there are a bunch of great prints and pieces to be found online. Such as this Sunlight + Miracles collection from Homeplistic. Photo Credit: Homeplistic
Think about spacing
Ok, so now we're working with a mix of stuff, right? And if you're feeling the eclectic look, I'd go ahead and just unleash at this step. If you want to rein it in a bit, my number one rule would be to think about the spacing between frames.
You're measuring from the bottom up, accounting for the height of your frame mount, and trying to keep the space between prints fairly even. You want to keep it fairly narrow, but you can also play with the width of this space to visually group pieces together within the picture wall.
Use the proper tools
Ok so we have our plan now, what tools do we need to make this happen?
Let's start with a level for accurate and easier measurement, digital or old-school, that's up to you. (Your phone also works btw!) I'd also recommend picking up a picture hanging kit like this one. Consider the weight of what you are hanging, and rely on drywall anchors for heavier pieces.
Note that framing can be a pretty costly ordeal. If you're willing to do some of the work yourself, check out our detailed guide to DIY framing here.
Think beyond the picture
Take advantage of more than just prints and photos in your picture wall! A mirror adds depth to your space, or a wall hanging like this gorgeous brass piece from the Citizenry that will give a little more life to the scene. If brass feels too stark, then consider something woven. Or if you're a plant and candle lover like us, you might even consider incorporating a subtle floating display shelf or two.
This San Cristobal Wall Hanging from the Citizenry is the perfect piece to break up your picture wall with other elements than photography and print. Photo Credit: The Citizenry
The number one rule when putting together a picture wall is to have fun with it. This is your story to tell. By being thoughtful about placement and spacing, you can combine pretty much anything to create a statement moment in your home.
Have a picture wall you're proud of? Or still looking for more pieces to add? Leave comments below or share a snap with us on
Instagram
, we'd love the chance to see your story!