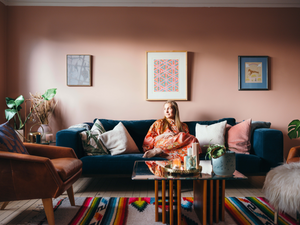 Scandinavian Homes of Women Entrepreneurs: Nina Lorentzen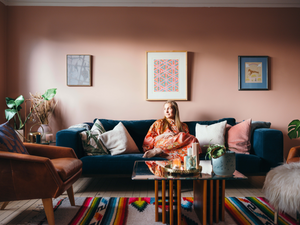 Women are creators. Business owners. Mothers. Wives. Daughters. Sisters. Sisters-in-law. Caregivers. Homemakers. Executives, and middle managers. And lest we forget: Superheroes.
That is why we are introducing a new content series here at Blue House: Inside the Scandinavian Homes of Women Entrepreneurs, to shine a spotlight on some powerful and fearless women we admire, and the homes they have created around them.
With that we are excited to welcome you into the home of entrepreneur Nina Lorentzen.  
Lorentzen is an executive producer with one of the top commercial production agencies in Scandinavia, Motion Blur. A former ambassador for SheJumps, a non-profit that encourages women and girls to participate in outdoor activities in order to foster confidence, leadership skills and community-building, you are as likely to find her scaling a mountain on skis, as running a multi-million dollar commercial film production from behind her laptop. 
Lorentzen recently moved back to her hometown of Oslo, Norway, and has since transformed her two-bedroom apartment in the neighborhood of Bislett. In this bright colorful space, her design aesthetic is clearly influenced by time spent in the Mountain West, but stays true to the Scandinavian principles of minimalism and sustainable sourcing. 
Name: Nina Lorentzen
Age: 32
Profession: Commercial Film Producer
City: Oslo, Norway
"I'm constantly working on my biggest creation, which is shaping my own life intentionally."  
The use of color throughout the home is playful yet measured - creating a warm and inviting space. 
In a few words, who are you, and how would you define yourself?
Outdoors woman with a career problem!
What do you do for a living?
Commercial film producer
What is your passion project?
Anything in the mountains that makes me push myself both physically and mentally.
What does "home" mean to you? (and has that changed at all in the past year?)
Home has been where I'm from, where my roots are, until recently. The past year or so has changed that drastically. I now find myself living in the place I'm from for the first time in 14 years, and I have also had to spent more time here now than I have spent anywhere in the last 14 years.
What is your favorite part of your home?
The natural light I get in the bedroom and living room, since my apartment is high up and south facing, combined with all my plants. These two elements are a great reminders of how important it is to surround yourself with life.
How do you think about putting together your space?
I focused on having it "spark joy", in the words of Marie Kondo. To do that I have found a harmony in quite a lot of colors, comfortable furniture, and objects of personal value, wanting to avoid crowding the space or having a lot of clutter. Compared to a lot of Scandinavian homes I probably have a lot of things, but everything has its place, so it feels at home and intentional.
There are a lot of Midcentury pieces, all which were picked up in the States, not Norway, ironically enough, but by adding a lot of color and texture it feels less sterile than the typical neutral Nordic palette. I never want anything to feel too serious or severe in my space.
I also love items with a story, whether that is something I picked up while traveling, or a used piece, like my Eames Shell chairs and dining room table. Having several talented artist friends has also helped decorate my walls.
At the same time quality and convenience are considerations. I went all in for my dream kitchen when that was put in. The bathroom I did a quick fix by just painting the cabinets a bright pink that refreshed the whole space.
What are some particular objects you are drawn to in your home? And why?
I have a painting by Native American artist Harrison Begay that is the perfect embodiment of what I enjoy in my home - it "sparks joy", it's a bit whimsical as it's a depiction of a horse and a rainbow, I picked it up while traveling (in Santa Fe) and I was with a good friend when I bought it. Other items that have similar stories are a rug from Mexico, and a photograph from South Africa.
What inspires you?
People of all walks of life that defy odds and accomplish their hopes and dreams. Anyone that isn't content with the status quo and does something about it.
What are you worried about?
The Polar ice caps melting and the whole world being under water. White, straight men over 50 never giving room for anyone else at the table.
What do you dream of creating next?
I'm constantly working on my biggest creation, which is shaping my own life intentionally. I'm lucky that I know many of the things that bring me meaning, so life is a constant project in attuning to that meaning. That means finding a balance between the various elements - challenging myself in outdoor pursuits, building my career, and surrounding myself with the people I most need.
What is your superpower?  
I make shit happen. 
Many of the objects found in Lorentzen's home are gathered over the years during travel, work, and adventures. She is drawn to items that speak to her story as it unfolds. 
A highlight of this home for Lorentzen is the natural light that floods through her master bedroom and living space.
By using bold contrasting colors throughout the home, Lorentzen is able to tactfully add her own personal flair to each individual space. 
Velkommen hjem.
Want more stories like this? To visit more Scandinavian Homes from Women Entrepreneurs, and get a whole bunch of helpful tips on how to add a touch of hygge to your home, sign up for our newsletter.