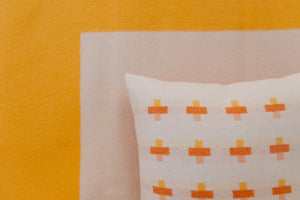 Why We Love: The Story of Røros Tweed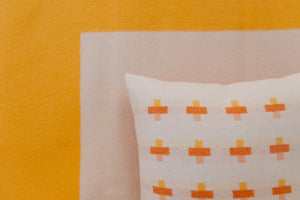 We know you love the Syndin, you've made that very clear. And we do too! This stunning collection of throws and pillows were our first order from Røros Tweed, and try as we might, we've barely been able to keep them on the shelves. Last week we shone the spotlight on the fantastic designer behind them, Kristine Five Melvær, but today we want to take a closer look at the story of manufacturer Røros Tweed. 
Photo Credit: Røros Tweed
Established in a small mining town (from which it takes its name) in 1940, Røros Tweed is today one of the most respected brands in Norway, textile or not. Their rich history includes a long line of collaborations with top Scandinavian design talent, producing stunning patterns, colors and techniques. Weaving only 100% Norwegian lambswool, the quality and durability of their goods exceeds all expectations, and you would be hard pressed to find a home or hytte in Norway that isn't graced by at least one of their designs. 
I was surprised and delighted to learn the story behind Røros Tweed. In the 1700s, a wealthy businessman by the name of Peder Hiort donated the entirety of his fortune to the impoverished people of Røros. However, his donation came with some guidelines for how the money was to be distributed. 
Hiort intended for the money to be spent on wool and linen fabrics that would be given to the poor. They would then in turn spin, knit, and weave this material into stockings and other warm clothing, products that were essential for survival during those cold norwegian winters. Once complete, the products would be collected and the poor would be compensated for their labor. 
Every year around midsummer, these same textile products and other gifts would then be distributed to those in need. Many who had had a hand in creating the textiles, would receive them as gifts. This went on for 150 years or so.  
Røros Tweed was founded as an extension of this very enterprise. First offering weaving courses in the late 1930s. Then as a sales outlet for textiles woven at home. And finally in the form of a full-fledged factory that stood complete in 1952, and still stands today. (Though production has of course been modernized over the years.) 
In Scandinavia, design speaks to our environment in many ways. We believe beauty can truly enrich our lives, but that beauty must be matched by its function. For instance, wool. This simple textile is insulating. Believe it or not, it will keep you warm in cold weather, but it also wicks away moisture to help keep you from overheating. And perhaps most importantly, when treated properly it will last you a lifetime. 
Photo Credit: Blue House 
These qualities are the foundation of Røros Tweed, and the reason this manufacturer stands today as a staple of Norwegian homes. The Syndin is but one example of the many masterpieces they produce, with each design intended to both delight and satisfy, and inspired by our mountainous home. The Syndin takes its inspiration from a mountain region by the same name, both in pattern and color. For instance, the Cloudberry is inspired by the "multe" - a small berry partial to the Scandinavian climate which takes on a bright orange hue when ripe. 
This year we are excited to introduce an even broader selection of Røros Tweed collections at Blue House, and because there is so much to choose from we'll be asking your advice on what to pick. Do make sure you're following us on Instagram so you can have a say!